Interview With Writer Sheida Mohamadi
By Marissa Bell Toffoli
An intro­duc­tion to Iranian jour­na­list, poet, and nove­list Sheida Mohamadi. For almost a decade Mohamadi has made her home out­side of Iran, ever since inves­ti­ga­tive jour­na­lism cau­sed her to lose her job and have her own life threa­te­ned. No lon­ger fee­ling safe to fight for women's rights through wri­ting in Tehran, where Mohamadi was born and rai­sed, she has since rebuilt a life for her­self in the US, where she is free to write about the issues that are impor­tant to her. Mohamadi's most recent col­lec­tion of poems, Aks-e Fowri-ye Eshqbazi (The Snapshot of Lovemaking), was publi­shed under­ground in Tehran in 2007. Giving a voice to women's rights issues has rou­sed many people to res­pect and appre­ciate Mohamadi, but others wish to tame her into silence.
Living in the US means bat­tling cen­sor­ship from abroad to conti­nue to reach a Farsi-spea­king audience in Iran. There is the double-edged sword of trans­la­tion when mar­ke­ting Mohamadi's poe­try to non-Farsi rea­ders — it may reach more rea­ders while sacri­fi­cing some poe­tic lan­guage. Fellow wri­ter Mehrdad Balali des­cri­bed Mohamadi's poe­try as decep­ti­ve­ly simple, and chal­len­ging even for Farsi spea­kers :
"Her lan­guage is very fluid, and it keeps chan­ging shape. It throws words and expres­sions at you in way that you haven't thought of before. That's real­ly the magic of her poe­try — it brings out some­thing new in you ; it pro­pels you into a new realm. It is so intel­li­gent, but at the same time so simple."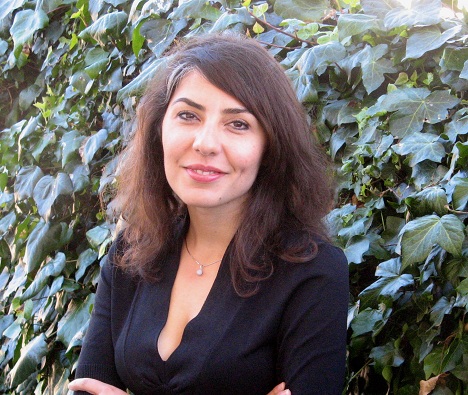 Quick Facts on Sheida Mohamadi
Home : Monterey, California
Top reads : My favo­rite books and authors change all the time because they depend on my mood, the books that I am rea­ding, and my own wri­ting. However, there are authors whom I admire and enjoy regard­less : Rumi, Hafiz, Omar Khayyam, Charles Bukowski, Sylvia Plath, Milan Kundera, Jorge Luis Borges, Forough Farrokhzad. My favo­rite books include modern col­lec­tions of poems, and The Little Prince by Antoine de Saint-Exupéry.
Current reads : The Best Poems of the English Language by Harold Bloom
What are you wor­king on at the moment ?
I have sus­pen­ded the publi­ca­tion of my fourth lite­ra­ry work, a col­lec­tion of poems, for two rea­sons : The first is that I am still in the pro­cess of edi­ting it, some­thing that I haven't real­ly done before with my other works. I want to make sure to get the best result. Secondly, I haven't been able to find the publi­sher I want. This book can­not be publi­shed in Iran due to its ero­tic content, and also because of its femi­nist under­tone. A couple of lite­ra­ry houses in Iran offe­red to publish it a few years ago, but they later chi­cke­ned out for poli­ti­cal rea­sons, in the wake of the mas­sive cra­ck­down on free speech that fol­lo­wed the dis­pu­ted 2009 pre­si­den­tial elec­tion in Iran. Since then, most inde­pendent publi­shers have gone out of busi­ness or slip­ped under­ground. In the present cli­mate, no one is willing to take the risk of publi­shing such a contro­ver­sial book that deals with the taboo sub­ject of sex.
Moreover, I'm reluc­tant to have the work publi­shed only out­side Iran because I would not gain as wide a rea­der­ship. So I am in a state of lim­bo now, until I final­ly make a deci­sion about publi­ca­tion.
What would it mean to publish your work under cen­sor­ship ?
An inter­es­ted publi­sher has asked me to revise the book manus­cript and let some poems go because they can't get per­mis­sion to publish the col­lec­tion as is. I have to wait and see for sure how many poems or lines the poten­tial publi­sher wants to delete. I know myself, and if they want to make big changes, I'd pre­fer not to publish my poems yet.
What kinds of poems are you being asked to remove from the book ?
The poems that have ero­tic ima­ge­ry or talk about socie­tal issues. Anything about the woman's body, or if the poem explains or ima­gines love­ma­king. It seems with any­thing that comes from love or femi­ni­ni­ty they've asked me to change the point of view, the nar­ra­tor, or how it reads. Those topics are seen as too dan­ge­rous, and the publi­sher can­not get appro­val to print these things. But for me, love is eve­ry­thing. Without love, life is emp­ty.
Do you believe wri­ting can affect change ?
Yes, I believe lite­ra­ture is impor­tant and can change people. Right now in Iranian uni­ver­si­ties and schools, the govern­ment has cut clas­si­cal poe­try with even mild themes of ero­tic love from the cur­ri­cu­lum. I think it's because they are afraid of a lite­ra­ture that libe­rates. Poetry can be revo­lu­tio­na­ry — think of the Beat Generation poets in the city of San Francisco. The lite­ra­ture of eve­ry coun­try is what makes the culture of that coun­try.
Over time, how do you feel the threat of cen­sor­ship has chan­ged your work ?
When I lived and wor­ked in Tehran they cen­so­red all of my work — my short sto­ries, my novel, my poems. But I kept wri­ting. When I came to the US, I felt freer. That's why in my first poe­try col­lec­tion most of my poems are femi­nine, ero­tic, and social­ly conscious. I don't care about making poli­ti­cal judg­ment. I write the things I feel stron­gly about. This is some­thing that I owe to my parents. Both my parents are very open-min­ded, and they taught me and my sis­ter to be strong and inde­pendent-min­ded. They shiel­ded us against the pre­ju­dices of our socie­ty, a socie­ty that teaches chil­dren from ear­ly on that female is the infe­rior sex. But mil­lions of other girls in that coun­try are not so lucky.
Do you have a phi­lo­so­phy for how and why you write ?
There is a thought behind eve­ry piece of wri­ting and that is some­thing that gives impe­tus to the author. What looms large in my work is the woman. I come from a land where being a woman is in itself a lia­bi­li­ty. It is the cen­so­red gen­der, conve­nient­ly repres­sed. The laws of this land open­ly seek to hol­low women out of their spi­rit, and mold them into obe­dient matrons.
In gene­ral, eve­ry poem I write springs from my sub­cons­cious mind. It hap­pens in a flash and then sud­den­ly goes dark. More often than not I try to recon­nect with that mys­ti­cal moment, but it can­not be done through conscious effort. It is hard to go back and find the poet Sheida and her mood in that flee­ting moment. For me, it is a third world, somew­here bet­ween the inner and outer world. I do not make conscious deci­sions what to write about, even if it deals with some social or poli­ti­cal issue that preoc­cu­pies me — famine and star­va­tion in Africa, the mas­sacre of chil­dren and inno­cent people in wars, or the plight of women in the Third World. For me, poe­try is about pain and lon­ging. The two toge­ther make a recipe for that deli­cate moment when I become overw­hel­med with the need to write.
When and why did you leave Iran ?
I left Iran in 2003 and came to the US in 2004 ; and I have not been able to go back ever since. My name is on the bla­ck­list as a result of my jour­na­lism. When I star­ted my career as a jour­na­list, I dis­co­ve­red that my pas­sion was with Iranian women's tram­pled rights. I espe­cial­ly felt for runa­way young girls from the coun­try­side. They fled their oppres­sive small town lives in search of a dream, but most ended up on the street and even­tual­ly dead, either from mur­der or sui­cide. These were the sub­jects that I was inter­es­ted in, and that's why I deci­ded to become an inves­ti­ga­tive jour­na­list. But the Islamic repu­blic is not a place for that kind of thing. I was thrown out of one news­pa­per after ano­ther for trying to write about these women, and even­tual­ly had to flee the coun­try.
Before I left Iran, when I was publi­shing those sto­ries about abu­sed women, the cen­sor­ship depart­ment of the culture minis­try cal­led me three times, see­king an expla­na­tion for my work. One day, I arri­ved at my office and found all of my things packed and sta­cked up by the ele­va­tor. When I asked what was going on, nobo­dy would tell me any­thing. Finally, at the end of the day I was told, "We don't need a women's page any­more."
Anonymous people from the govern­ment even cal­led some fel­low jour­na­lists to ask about me. They war­ned if I conti­nued to publish my articles my fami­ly would find my dead body out in a forest. I was serious­ly alar­med. At that time my sis­ter was living in London, and she was able to get a visa for me to visit, thin­king it would be a good idea for me to leave Iran for some­thing like three weeks, and then when things quie­ted down I would go back. So I left in a hur­ry, without even saying good­bye to my fami­ly or my friends, not kno­wing I wouldn't be able to return. The pain of sepa­ra­tion was too much, and it was only two months ago when my parents were final­ly able to get a visa to come and visit me in the US.
What do you hope rea­ders will take away from your work ?
I believe poe­try is for enjoy­ment. It is meant to induce a deep inner plea­sure in the rea­der, and uplift their spi­rit. It has the poten­tial to awa­ken a pre­vious­ly unk­nown, novel fee­ling in the rea­der — a fee­ling of love, pain, loss, or wha­te­ver it is that prods one to action. For me, rea­ding a good poem is always mar­ked with a new dawn, a great sense of satis­fac­tion.
Who do you pic­ture as the ideal rea­der of your work ?
There was a time when I had a limi­ted rea­der­ship among mere­ly the lite­ra­ti, but now my poems are rea­ching a wider audience. When a poem comes out, it takes its own inde­pendent iden­ti­ty and I, as the poet, like to stand back and watch how it affects the rea­der.
What is the trans­la­tion pro­cess like from Farsi to English ?
Poetry, like jokes, does not cross over. Poetry is the most conden­sed expres­sion of a land, pul­sa­ting with all its music, color, and cultu­ral nuances. It is tough to bring off this whole expe­rience in a new tongue. When I write, for example :
My hus­band
who is the hus­band of the world's roofs
eve­ry night sleeps with the sky at the
other end
of my win­dow
and in the mor­ning
spreads the smell of onion, per­fume and
my room­mate
My hus­band
whose unders­tan­ding of Islam only is
its four wives
and from Judaism, Men's left rib
and from Christ
the puri­ty of the vir­gin
for all of the neigh­bo­ring women
ele­men­ta­ry school friends
and my office co-wor­kers
he has full atten­tion
devotes time
and talks about the beau­ty of their eyes
and breasts
and eve­ry time he shakes the lef­to­vers
above my head
He says :
"This Spring, you need to be with child!"
This draws upon the native culture of a land where a woman is prone to be humi­lia­ted for her infer­ti­li­ty by allo­wing her hus­band to take more wives.
But some­times poe­try can be uni­ver­sal, like :
Nothing mat­ters out­side this flo­wer­pot
Not the bru­sh­fire in Malibu
Neither the slo­gans on the walls of Kandahar
Nor the sizz­ling corpses of Bagdad
Oh my love !
If the mea­ning comes through trans­la­tion accu­ra­te­ly, do you mind if the sounds are dif­ferent ? How much do you wor­ry about trans­la­ting the music of your work ?
The sounds of the lines and the music are a trans­la­tion pro­blem. I use a lot of sounds toge­ther on pur­pose, and with repe­ti­tion, so they sound plea­sing in Farsi. It creates inter­nal rhyme. Sometimes I include sounds that aren't real­ly words, but are a com­mon­ly unders­tood sound or song in Iran, and there isn't neces­sa­ri­ly an equi­va­lent in English. It's hard to recreate that part of the expe­rience of the poem in ano­ther lan­guage and get the exact mea­ning in the trans­la­tion. Here's an example of one poem in English and in Farsi :
The sun moves slant (Poem by Sheida Mohamadi, Translated by Sholeh Wolpe)
Too late now,
too late to undo your but­tons
and let loose my liquid blue fin­gers
on your chest,
to turn the lock in my throat
and hear the hal­la hal­la hal­la
of your coming
from among apples and lemons.
Your sha­dow moves slant through mine.
Why is it that your kisses no lon­ger leave
their mark on my purple dress ?
Why is it that your body's tan­ge­rines
no lon­ger swell from sucking my breasts ?
Your voice no lon­ger sends frogs
crrrrrrrrrrr­roa­king along my thighs.
Now, each time your voice grows cold-blue,
you snuff out your ciga­rette in my eyes
and half the clock's circle face
sinks to sleep in the ashes of my hair.
"رفتن اریب آفتاب"
دیگر دیر است
برای باز کردن دکمه هایت
و خنده انگشتان آبی ام بر سینه تو
و چرخیدن قفل
در حنجره من
و هلا هلا هلا
در آمدن میان لیمو و سیب ها
و سایه ات که
اریب می رود از سایه من.
چرا دیگر بوسه ات بر پیراهن بنفشم لک نمی اندازد؟
و نارنجی های تنت ازمکیدن پستانهایم
باد نمی کند ؟
دیگر صدایت
قورباغه ها را در ران هایم غو غو غو غوک نمی…
حالا هر وقت
صدایت کبود شود
سیگارت را در چشمان من خاموش می کنی
و نیم دایره ساعت
در خاکستر موهایم
به خواب می رود.
"شیدا محمدی"
نوامبر 2006
For now, I think maybe the mood and mea­ning of the poem is more impor­tant to me in trans­la­tion than the exact words or poe­tic lan­guage. But it is hard to sacri­fice one for the other. This is a dif­fi­cult issue for me ; I have heard some people say that a bad trans­la­tion can be worse than not being trans­la­ted because it can gene­rate a false repu­ta­tion for my work. People may not want to read my work if the trans­la­tion is poor or inef­fec­tive.
Do you ever write poems or sto­ries in English first ?
No, only some hai­kus in English.
Where and when do you pre­fer to write ?
I don't like to be groun­ded. I like to be always on the move, to explore and make new dis­co­ve­ries ; and my best wri­tings come out when I am mobile. My mind is more fluid when I'm on the move, whe­ther dri­ving, flying, or riding in a train. I have com­po­sed many of my poems while dri­ving. But I also must have my pri­va­cy, and it is in my room that I feel most at peace.
Where would you most want to live and write ?
As I said, I am a gyp­sy girl. If I stay in one place for too long, I get bored. I pre­fer to tra­vel. Moving has hel­ped me to write a lot of poems. But, I would love to live in a place with a mix of Eastern and Western cultures, the best of the two worlds.
What advice would you give to aspi­ring wri­ters ?
Just as I am not a fol­lo­wer, I do not like to have a cult of fol­lo­wers. I just tell aspi­ring wri­ters to fol­low their dreams and their hearts, and to also be aware that crea­tive wri­ting is a pain­ful pro­cess.
What is the best advice you were given as a wri­ter ?
To edit my work before sub­mit­ting it for publi­ca­tion.
Is there a ques­tion you find sur­pri­sing that people ask about your work ?
What used to sur­prise me and doesn't any­more is that many of my rea­ders mis­take the poet with the nar­ra­tor ; and since my work contains ero­tic ele­ments, some­thing that Iranians' puri­ta­ni­cal mind­set is not used to, they often become sho­cked by the direct­ness of my lan­guage. There have been few ero­tic works in Persian lite­ra­ture and almost none by a woman until Forough Farrokhzad broke big taboos with her daring poems back in the six­ties. It was an exer­cise in rebel­lion by a free spi­rit fee­ling suf­fo­ca­ted in a dee­ply tra­di­tio­nal and male-orien­ted culture, a socie­ty where women were assi­gned a set role to play and were not allo­wed any spon­ta­nei­ty.
For me as well, ero­tic poems are an attempt to break free, and reveal that res­t­less side of my soul. I want to free­ly express myself, and if I end up sho­cking or ange­ring some prudes, then let it be.
What do you find most chal­len­ging about wri­ting ?
Finding the dis­ci­pline to write.
When you are not wri­ting what do you like to do ?
I live.
About Sheida Mohamadi
Sheida Mohamadi is a jour­na­list, poet, and wri­ter of fic­tion born in Tehran, Iran in 1975. While living in Tehran, Sheida edi­ted and wrote for the women's page (Safheh-ye Zanan) at Iran news­pa­per in 2002-2003, and at Farhangestan-e Honar Monthly Review in 2003. She publi­shed her first book, a work of poe­tic prose tit­led Mahtab Delash ra Goshud, Banu ! (The Moonlight Opened its Heart, Lady !) in 2001, and her second book, a novel tit­led Afsaneh-ye Baba Leila (The Legend of Baba Leila) in 2005. Her third book was Aks-e Fowri-ye Eshqbazi (The Snapshot of Lovemaking), a col­lec­tion of poems publi­shed under­ground in Iran in 2007. In 2010, Sheida Mohamadi was a Poet-in Residence at the University of Maryland. Her poems have been trans­la­ted into dif­ferent lan­guages, inclu­ding English, French, Turkish, Kurdish and Swedish. She has lived in the US since 2004, and conti­nues to main­tain her weblog, www​.shei​da​mo​ha​ma​di​.com, which she laun­ched in 2001.
Source
Toffoli, Marissa Bell. "Interview With Writer Sheida Mohamadi." Words With Writers (August 24, 2011),
http://​word​swi​th​wri​ters​.com/​2​0​1​1​/​0​8​/​2​4​/​s​h​e​i​d​a​-​m​o​h​a​m​a​di/