My first post­card from London is a lit­tle repre­sen­ta­tion of poets I stum­bled upon at 'The Shag'. I fell in love at first sight with this plat­form, situa­ted in Studio 180, a conver­ted Georgian ter­race in South London. Here dif­ferent artists, poets, musi­cians, actors, wri­ters and the like are coming to show­case their work for feed­back, net­wor­king and dis­cus­sion with fel­low artists. Little by lit­tle The Shag crea­ted fresh, alter­na­tive and fun scene where it is pos­sible to enjoy new art and meet artists in relaxed and friend­ly atmos­phere, which is pri­ce­less in very often chao­tic and hec­tic London.
………………………………………………….
Elise Naomi Buddle
Elise Naomi Buddle, aged 28, born 1984 ; www​.eli​se​nao​mi​buddle​.co​.uk
I was born in Sunderland, North East England and I'm a prac­ti­tio­ner in a varie­ty of media as well as a tea­cher of the fine arts.
I wan­ted to keep this poem simple and dis­cuss, abs­tract­ly, the struggles we all face using a the sim­plest of meta­phors ; ground sand.
This poem explores the fra­gile state of our cur­rent socie­ty and the more gene­ric struggles we all face, using as simple a meta­phor as sand or some grit­ty sub­stance which dimi­nishes under pres­sure.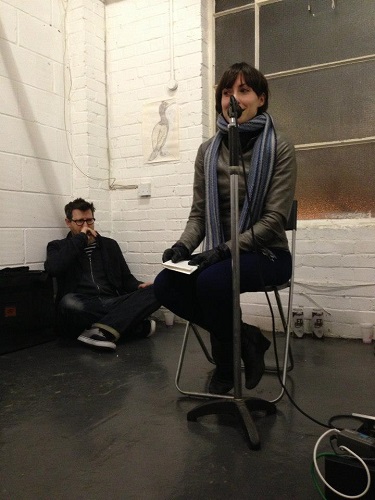 Rompu
Rompu jusqu'a_ce_qu'iln'y ait plus rien a rompre
Si Raffiné et lisse
Un mur­mure dans le néant
Quand passe dou­ce­ment le vent
Le tou­ché rugueux_​balayé
Le risque de souffrir_​envolé
Seulement la sen­teur crayeuse
De ce qui fut demeure
Tremblotante dans l'air tout la haut_​ après la bataille
Doute, dés­équi­libre, virage ser­ré
Manque de visi­bi­li­té ….
Apaisement
La pure­té pré­vaut
Mais vers où aller ?
Le chaos tou­jours resur­git
Ground
Ground until there is nothing left to be ground
So refi­ned and smooth
whis­ping into nothin­gness as the soft wind blows
the grit­ty tex­ture,- aban­do­ned
The risk of get­ting hurt,- gone
Only the chal­ky scent of what was remains
Quivering in the air above,- post pum­mel­ling
Uncertainty, imba­lance, sharp turns, unpre­dic­ta­bi­li­ty
Alleviated
Purity pre­vails
But where do we go from here ?
Chaos always resur­faces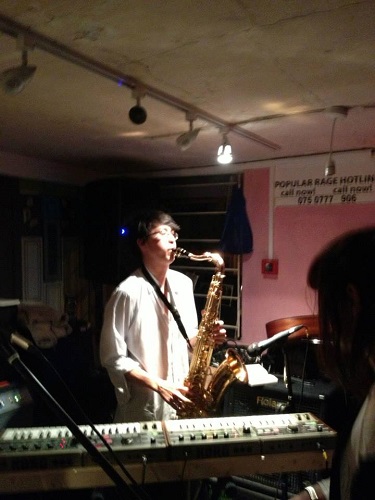 ………………………………………………………….
Geraldine Gallavardin
Intérieur, 7e étage
Sur la table, le Bouddha
Sourit ombra­gé, le géra­nium en fleurs.
Soudain une sirène, les pom­piers
— —  —  —  — —
Le parc de Southwark
Battements du cor­beau, les enfants
Taches de cou­leur, herbe verte, les cyclistes
Paquerettes fré­mis­santes ; des cris
Geraldine Gallavardin is a London based poet and artist wor­king in dif­ferent media.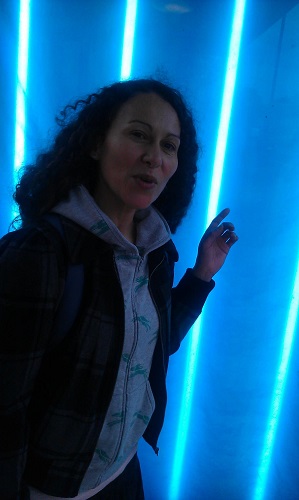 ………………………………………………………………..
Sam Hacking

Le Toi et le Moi
Le toi et le moi,
Entre l'orage lacé­rant l'ocean,
Levant des cou­vercles de voiles écu­mantes
A épin­gler contre le ciel éteint.
Sa forme accrou­pie abo­mi­nable
Chevauchant la mousse de ses lèvres mouillées ;
Et se repliant dedans,
Transformant les vagues en gris fon­cé
Au vert, au bronze, au bleu.
Sables siro­tant se ren­contre l'esprit fes­tif
Dès que le soleil rem­pli le rivage,
Le Bernard-l'Hermite et sa coquille étin­ce­lante
Sont tenus de ne plus se marier,
Divorcés d'une paro­die salée
A côté des rebuts de Varech hon­teux,
Entouré par la constance ; Attraction. De la. Marée
The You and The Me
The You and The Me,
Between the storm torn sea,
Lifting lids of fro­thing sails
To pin against the clo­sing sky.
It's hei­nous hun­ke­ring form
Straddles the foam from wet­ted lips ;
And folds in,
Turning waves of dar­ke­ning grey
To green, to bronze, to blue.
Suped sands meet their mer­ried wit
Upon the sun packed shore,
The her­mit crab and glea­ming shell
Are bound to wed no more,
Divorced to sal­ted paro­dy
By dregs of sea kelp shame,
Amidst the constant :
Pull. Of. Tide.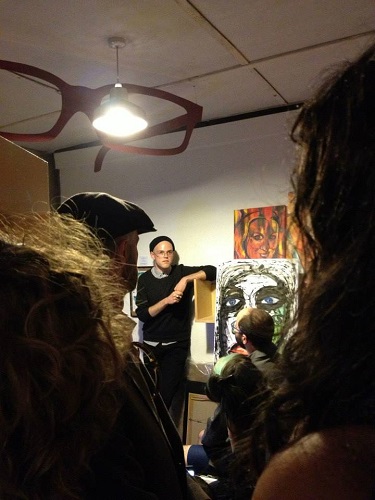 Emmène ton por­trait à l'arbre
Emmène ton por­trait à l'arbre,
Pour le plier sous le mon­ti­cule et la clé,
Gratte ton écorce et en fleur bats de tout ton plein
Au levé du soleil ou à la lune crois­sante.
Emmène ton por­trait au cor­beau
Pour mordre et croas­ser dans la boue et la neige,
Roule tes plumes et bois du bon hydro­mel
Pour sen­tir ton coeur battre effeuillé à par­tir de graines.
Emmène ton por­trait, emmène le main­te­nant !
Pour le coudre sous la révé­rence finale,
Cuis ses vers de terre dans les cendres du ceri­sier
Pour cher­cher le coup de fouet final du veilleur.
Peux-tu pas­ser dans la terre
Pour faire réson­ner tous tes dési­rs ave­nir ?
J'ai pen­sé t'avoir vu, bis­cor­nu, nu,
Hélas, c'est juste un arbre d'hiver.
Take your por­trait to the tree
Take your por­trait to the Tree
To fold it under knoll and key,
Itch thy bark and swing full bloom
To rising sun or waxing moon.
Take your por­trait to the crow
To bite and charp in mud and snow,
Roll thy fea­thers and drink rich mead
To feel the heart­beat plu­cked from seeds.
Take your por­trait, take it now !
To sew it under final bow,
Bake thy worms in cher­ried ash
To seek the watchman's final lash.
Can you pass your­self into the land
To echo all your will to be ?
I thought I saw you, cro­cked, bare,
Alas ! It's just a win­te­red tree.
Poems by Sam Hacking, trans­la­ted from English by Geraldine Gallavardin
Sam Hacking is London based poet/​artist gra­dua­ted from The Slade School of Fine Art. Her stu­dio is at Studio 180 in Waterloo and she is cur­rent­ly repre­sen­ted by Eyestorm Gallery. http://​www​.sam​ha​cking​.com/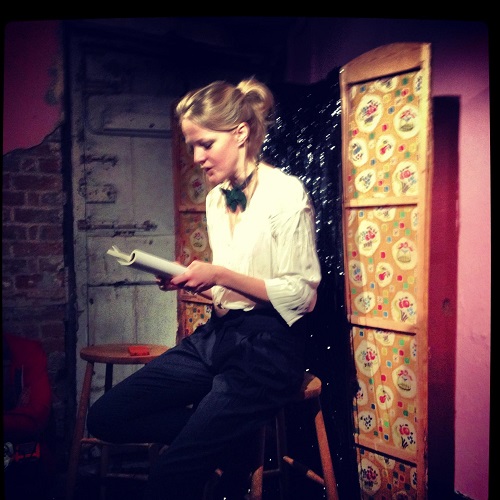 .……………………………………………………………………………………….
Selected poetry taken from Codependently Yours, a performance piece of poetry and music by Sitron Panopoulos and Victor Esses.
(trans­la­ted from English by Geraldine Gallavardin)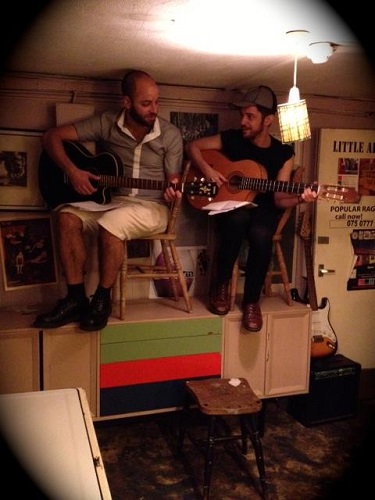 Poèmes tirés de "Codependently Yours", un spec­tacle poé­tique et musi­cal don­né par Sitron Panapoulous et Victor Esses

La col­la­bo­ra­tion s'est pro­duite de la ren­contre des deux créa­teurs qui a abou­ti å une ami­tié forte et au par­tage d'expériences et d'une esthé­tique simi­laire.
Evoquant les jour­nées de deux étran­gers arri­vant à Londres en fin d'adolescence et tom­bant amou­reux, se trou­vant et trou­vant d'autres per­sonnes avec les mêmes dis­po­si­tions ce qui les fait se sen­tir moins tapette.
Une his­toire de com­pli­ci­té, de magie, de perte, de lumières intenses et d'accidents de voi­tures.
Une his­toire de règle­ments de comptes popu­laires et de fausses idoles ; ten­ta­tives de vaincre l'intolérance des foyers et un pas­sé trau­ma­tique à tra­vers le sexe, la gloire et l'alcool.
Une his­toire de mort et de renais­sance, se perdre pour se trou­ver soi-même. Une quête pour trou­ver un endroit ou une épaule sur laquelle se repo­ser.

Victor est un direc­teur de théatre Brésilien vivant à Londres, ses spec­tacles sont : "The Last Days Of Gilda (Arcola Theatre) et "The Assault" (Old Red Lion Theatre).
Sitron est un musi­cien de rock grec vivant à Londres, son tra­vail inclut la musique de "Help » (l'exposition de Gary Webb pour les Jeux Olympiques d'Athènes) et "In theses Great Democracies", recueil de poèmes.

— —  —  —  —  —  —  — –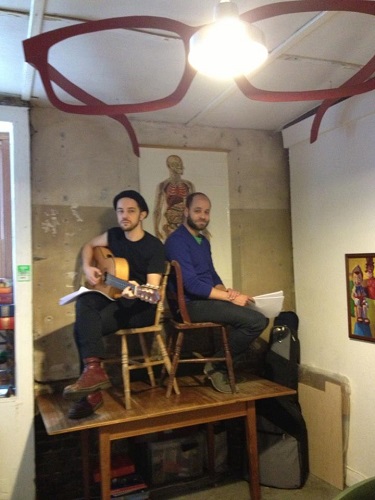 Selected poe­try taken from Codependently Yours, a per­for­mance piece of poe­try and music by Sitron Panopoulos and Victor Esses.
The col­la­bo­ra­tion arose from both crea­tives encoun­ter which culmi­na­ted in a strong friend­ship and sha­ring of simi­lar expe­riences and aes­the­tic.
It evokes the jour­neys of two forei­gners coming to London in their late ado­les­cence to fall in love, find them­selves and find other like min­ded people who make them feel less queer.
A sto­ry of com­pli­ci­ty, magic, loss, bright lights and car crashes.
A sto­ry of popu­lar fixes and false idols ; attempts of over­co­ming unac­cep­ting homes and a trau­ma­tic past through sex, fame and liquor.
A sto­ry of death and rebirth, get­ting lost to find one­self. A quest to find a place or a chest to belong to and fin­ding it where one least expects.
Victor is a Brazilian stage direc­tor living in London which shows include The Last Days Of Gilda (Arcola Theatre) and The Assault (Old Red Lion Theatre). He has always loved day­drea­ming and wri­ting poe­try.
Sitron is a Greek rock musi­cian living in London which work includes music for Help (Gary Webb's exhi­bi­tion for Athens Olympics) and In These Great Democracies, col­lec­tion of poems publi­ca­tion. He has always loved day­drea­ming and wri­ting poe­try.
POURQUOI JE NE LE SENS PAS ?

Il me fixait
Avec un engoue­ment pas­sa­ger
Quand il embrasse
Il ne bouge pas trop
Il est déli­cat,
Il conti­nue à faire des cercles avec sa langue
M'attrapant avec empres­se­ment
Mais pas d'engagement com­plet
Il a un peu un côté effé­mi­né
Ce qui est atta­chant
Mais rebu­tant.

Il est libre,
Juste ici,
Présent
Ici…

Il n'a pas une pré­sence mas­cu­line énorme,
Pas d'attitude bla­zé
Pas de fuga­ci­té

Il me fait me rap­pe­ler des choses en moi-même
Dont j'ai honte

Il ne me prends pas par der­rière,
Ne fait pas une femme de moi
Et je ne me sens pas comme un homme,
WHY AM I NOT FEELING IT ?
He stares at me
With infa­tua­tion
When he kisses
He doesn't move much
He's deli­cate,
He keeps cir­cling with his tongue
Grabs me with willin­gness
But no full com­mit­ment
He has a slight camp­ness about him
Which is endea­ring
But off-put­ting.

He's avai­lable,
Just there,
Present
There…

He's no huge mas­cu­line pre­sence,
No bla­zé atti­tude,
No elu­si­ve­ness…

He reminds me of the things in myself
I'm asha­med of

He doesn't take me from the back,
Doesn't make a woman out of me
And I don't feel like being a man,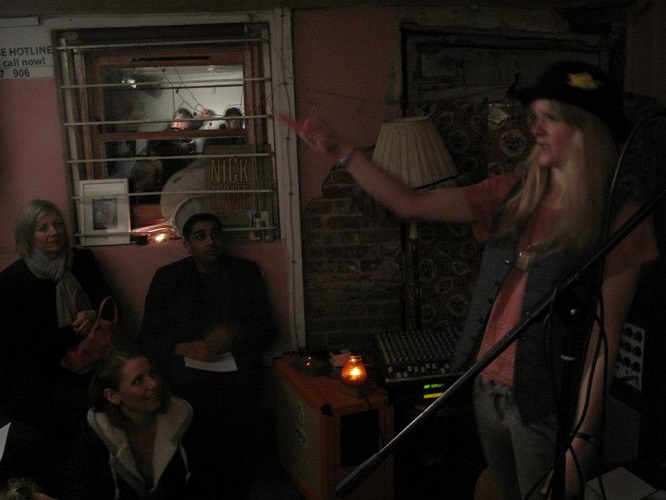 On a vécu nos vies

On a vécu nos vies
Dans des mai­sons magni­fiques
Rempli d'humbles amis
dans les après-midis d'été
Et les soirs d'automne
On a éten­du des cou­ver­tures sur l'herbe
Et regar­dé les étoiles la nuit

On a crée de beaux gar­çons
Et des filles opti­mistes
Armés de yeux inqui­si­teurs
Armés de cou­rage
pour s'engager dans chaque moment avec amour
Ils n'avaient pas peur
De ce que nous avions dis­si­mu­lé
Dans les coins du jar­din
Comme nous le savions jusqu'ici
95% des choses que nous avions craint
Ne sont jamais arri­vés
WE LIVED OUR LIVES
We lived our lives
In beau­ti­ful homes
Filled with humble friends
in sum­mer after­noons
And autumn eve­nings
We laid blan­kets on the grass
And loo­ked at stars at night

We crea­ted beau­ti­ful sons
And hope­ful daugh­ters
Armed with inqui­si­tive eyes
Armed with cou­rage
to engage in each moment with love
They had no fear
For we had hid­den it
In the cor­ners of the gar­den
As we had known by then
95 % of the things we had fea­red
Never came to be